Q & A: How to Wear Cowboy Boots with my Wedding Dress?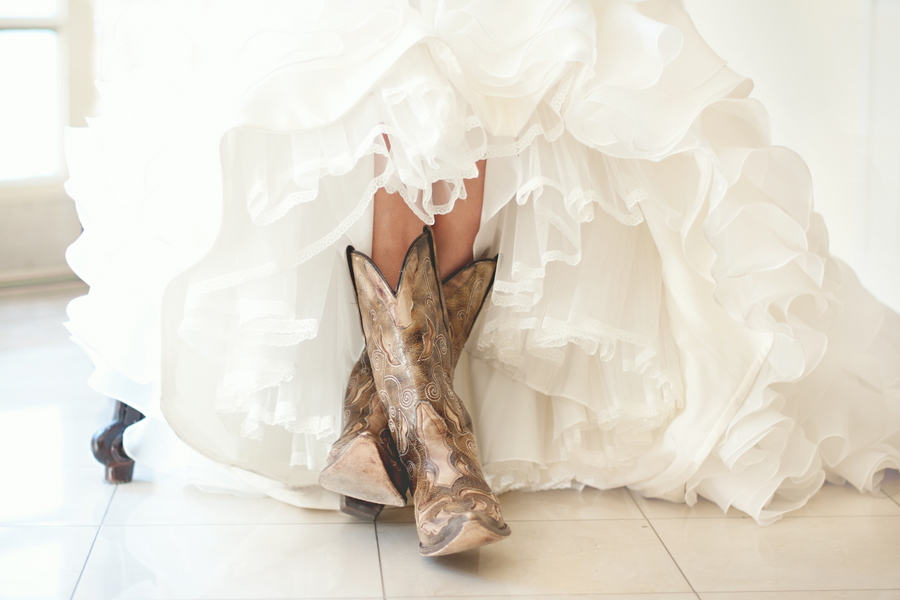 Today's post is inspired by a bride-to-be, who writes:
"I'm getting married in June and I want to wear cowboy boots with my dress. My colors are white and Fuschia pink. It's a pretty good size dress-more modern. Do you have any ideas? I would like black and fuchsia. Where do I find??"
After a big Congratulations, and some questions about price range, this is what we had to offer (considering we don't know much about the bride's personal style)....
These first ones are a bit on the wild side as far as wedding attire goes, but hey-some gals like to make a statement with their boots-after all, they are hidden most of the time ;-)
So, if you are into the current trend of wings, crosses, and bling...these might be perfect for you (black, pink, and point toe-and they are by Corral...who make a darn good boot):
(click the image to be taken to Country Outfitters)
A little more subdued:
(click the image to be taken to Country Outfitters)
These next boots are out of the price range that you gave, but I'm attaching any way , because I think they
are the

perfect "big day" boot

...by Frye, here are the Deborahs:
(click the image to be taken to Nordstrom)




Ok, now that we have swooned over those spendy ones, here is a Corral that has the same vibe for a lot less, and can be found at Buckle!
Have you noticed that I'm not sending many black options? I tend to steer away from black-especially for a wedding. I think because when I think of weddings, I think of soft, feminine, and girly. If it's not just the right black, it can come across as a little "hard" if you know what I mean ;-) I don't want to crush your idea of wearing black boots, because I do think it can be done...just a little tricky! Whatever the color, I would definitely stick to a point or snip toe boot...they are just a little more "fancy" than the square toe that are in style right now :-)
So, how to pull off the black boot? Two things that will help-I don't think you have to have both, but one would definitely help...The first is to opt for a a tall shaft (Liberty makes a nice tall shaft boot)...that is if you are a tall gal. I stand not too much taller than the 5' mark, so the tall shaft doesn't work for me, but if you can rock it, it would help give a little more sophisticated look to a black boot. To stay in your price range, I found these Corrals that have a slightly taller shaft than the average boot, and as an added bonus-they can be found at Buckle (which means you get an excuse to go shop the entire beautiful store):
*I think the white delicate stitching makes these look a little softer too :-)
(click the image to be taken to Buckle)




The second way to make a black boot work is to opt for a distressed black leather...again, softens the hard look of black. I found these next boots, and must say-for a girl who isn't a "black boot lover", I think I need to add them to my collection! I absolutely love that they have a little bling by way of the sequins inlay! These might be a great choice for you...

(Click the image to be taken to Country Outfitters)



And for a shameless plug,
might I add that TFD offers unique Cowgirl Canteens (designer hip flasks) that make the perfect bridesmaid gifts, and double as adorable photo props!
The website is currently undergoing a big relaunch, but Cowgirl Canteens for your big day can be found on our Facebook fan page:
You can also join the TFD Posse to be notified of sales, news, and hot new products!